Born in Los Angeles, writer and activist Andrea Scharf has been living and writing quietly along the Yachats River the past dozen years or so, "just beyond the fog zone," as she describes it. In between her native West Coast urban roots and Northwest Coastal life has been an extraordinary amount of living, seeing and experiencing.
Indeed, the born and bred Los Angelino went on to attend UCLA for college, and from there, launched a peripatetic existence that's rarely fallen short on fascination and accomplishment. In no chronological order, she has taught social studies in Watts and Manhattan during the 1960s; pursued further studies at Occidental College in California and the Vermont College of Fine Arts; dipped her toe deeply into urban planning in Oregon; worked as a stringer for an oil and coal industry newsletter in Pennsylvania; co-founded the Saturday Market in Portland; served as marketing director for the city of Yachats; and penned a lot of short stories and articles on everything from salmon habitats to the financial impact of the Colliers' strike.
Scharf's writing reached a new apex as the author of "Saving Big Creek: How a Persistent Group of Activists Blocked a Multi-million Dollar Resort, Rescued an Endangered Butterfly, and Expanded Opportunities for Citizen Involvement in Land Use Decisions in Oregon." Published in 2018, the book charts the roughly 32 year struggle—eventually a victorious one—by a group of activists in Yachats in the Central Oregon Coast to block a commercial development plan to transform nearly 190 acres around Big Creek into a luxury resort with hotels, conference centers and tennis courts. Entering the Pacific Ocean along the Coast of Lane County, Big Creek begins in Saddle Mountain Spring and flows through the Siuslaw National Forest into the ocean north of Heceta Head.
The controversial plan, hatched by developers from Hawaii, would have upended the tender ecology of surrounding state parks, miles of beaches, and wilderness areas home to salmon, elk and the endangered Oregon Silverspot butterfly. Scharf's book, chock full of details and internecine conflicts and relationships between activists, developers and land use commissions is a powerful love letter about will and perseverance but perhaps more subtly, the need to have trained and dedicated lawyers working on the other side of powerful developers. The conservation side.
The story—and the book—is an inspiring lesson and read. And while WaterWatch wasn't yet born when the events that Scharf chronicles first began, the epic journey, Scharf says, illuminates the importance of nonprofits like WaterWatch more than ever. The activists, she contends, would have navigated an easier road to a successful result with the benefit of an organization like WaterWatch.
These days, Scharf still writes, champions the environment and water conservation issues, and is mulling her next major writing project, which will likely be a work of fiction. Recently, she took time from chopping wood for her wood stove to talk about the events of Big Creek, the evolution of legal battles in the conservation movement, and the critical relevance of WaterWatch in the era of COVID-19.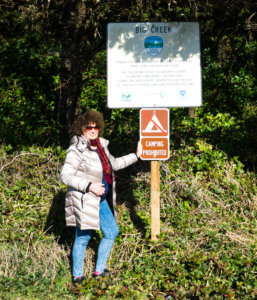 Q: You first moved to Oregon in 1970 before heading out East to Washington D.C. and Pennsylvania in 1979. Then you came back to Oregon in 1994, specifically via Eugene and Portland. How did you make your way to living along the Yachats River?
A: A friend of mine won a prize to teach a writing class at Yachats. I have to tell you I had no idea where it was even after living in Oregon for 10-12 years. So, I came here to visit and I never left. I got to know the people here, and got drawn into a couple of things, like water issues, and I met a bunch of people who became family to me over time. I lived in town for five years then moved out of town to where I am now. Living right on the coast is harsh. The weather is harsh and there are no trees. I wanted to be further up where the sun's shining. So I ended up here. It's beautiful. I walk around the property and realize "My god, I live in a place where people come to vacation." It blows my mind.
Q: Oregonians might not know that you co-founded Portland's Saturday Market—that's something that's touched a lot of lives in a different way from environmental work.
A: Yes, a friend of mine, Sheri Teasdale, and I had an idea for the market. So we went to (developer) Bill Naito for a meeting. He sat there with a big cigar in his mouth, chewing on it. We handed him our proposal and he said: "Well, girls, tell you what I'll do." He could see what this idea would do for the area. It was two vacant parking lots. But the condition of the lots was so bad that we ended up cleaning all the wine bottles and other unmentionable things each time we set up. But the market gradually took on a life of its own. Now it has its own pavilion. Bill made sure there was a MAX stop there so people would get off easily.
Q: The events in your book on Big Creek began around 1981, well before you arrived to Yachats, and ended in 2013. You weren't involved in the events that unfolded. So how did you get hooked into writing a book about it?
A: When I got here it was about the middle of the campaign. The exciting stuff had already happened—the legal stuff, the hearing before LUBA (Land Use Board of Appeals). It was a wait and see mode. There was, back then, a lot of DIY theatre happening in the area. We put this home grown revue together and met the organizer of it. I was going to help with some writing. So she, in turn, introduced me to Jim Adler who also was doing some of the writing. So I met him and he happened to be very involved in Big Creek (Adler connected activists in the Yachats community to WaterWatch in the 1990s on a separate issue.). Every now and then he'd talk about Big Creek.
Eventually, I met others involved in Big Creek and one day, in September 2013, he said: "We're having a big celebration and you should come. At the time, I was marketing director for the city but had just decided to quit to become a writer. But I had no idea what I'd wanted to write. So I went to this celebration which was about the Nature Conservancy turning the property over to the state parks. All of these people got up and spoke and I looked at them and thought: "They're old now. They're not going to be around forever." I decided that I needed to write this story.
Q: That sounds easy but it wasn't, of course. These are complex issues to get your arms around, no?
A: It took time but I'm an avid reader and I like talking to people. I also knew about land use planning because I worked in that world for a time in Portland in the mid-1970s. So I wasn't unfamiliar with the issues.
Q: What is your takeaway of the conservation movement at the time?
A: It was an exciting time because of the new land use planning initiatives in the 1970s. They gave people trying to preserve the natural environment a new powerful tool. There had been a struggle at the state level between conservatives who wanted less citizen input and people like the Oregon Conservation League and the League of Women Voters who wanted to have more input. The Big Creek Case, which went up to LUBA and the Oregon State Supreme Court, helped establish citizens' rights to have a voice. That meant if you showed interest by showing up at a hearing or by writing a letter, you would have the right to follow a case and have your voice heard. That's huge.
The state laws gave entities more legal tools to use. And while it's an unfortunate turn that things end up in court, it's often the only or best way to make things happen, or to stop bad things from happening.
Another observation: Oregon has a strong environmental community and everything that happens for the good and the better encourages the community to keep going. A battle like this was discouraging at times—or can be. A lot of the activists involved in Big Creek were in their twenties when it started. But they were much older by the end of it. They stuck with it. Enough people stuck it out to fight for an end that was a success.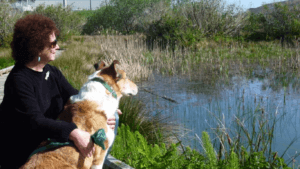 Q: WaterWatch was founded in 1985 and didn't exist when the events you write about started. Still, that reveals something important.
A: Yes, WaterWatch didn't have a big role in this effort because it didn't exist when all of this began. That's important because at the start of this process in 1981 there wasn't an organization like it to appeal the decision the Lane County Board of Commissioners made to approve a zone change for the property. We ended up going to Eugene and looking for a lawyer kind enough to take this up pro bono.
Basically, the group found a young lawyer named Tim Sercombe, who worked in Eugene and took the case pro bono. (Of course, people wanted to pay him. And they did—like $100 a year here and there.) Tim led the appeals movement and took the case up all the way to the Supreme Court. Eventually, afterwards, he became a judge on the Oregon Appeals Court; he retired a year or so ago. He's a good guy who did development law and worked within the state's land use planning environment. But he took on this other side of it, too. WaterWatch could have been helpful in the cause but no one knew about it by the time it started. It would have been a natural fit.
Q: Yachats activists did work with WaterWatch in the 1990s. Tell us about that.
A: In the late 90s – 1997—the city of Yachats re-opened its permit on the Yachats River and wanted to move its point of diversion, which was two miles up from the mouth of the river. The city wanted to move it down to the estuary area across from the water treatment plant. So it applied and for some reason they thought it would just happen. But it turned out it re-opened the whole permitting process. And so, some of us heard about this and we thought: This is bad. The water in the late summer is so low. It's a bad environment for fish and other aquatic life. We ended up contacting WaterWatch and Karen Russell, who was an attorney for WaterWatch at the time. She took the case and ended up taking it to a hearing at the Water Resources Department. Karen represented us and forced the city to enter into a mediated agreement. It listed roughly 11-12 things the city had to do before it could take any water out of the river. So, they weren't allowed to have that point of diversion and had to fix their leaks and put into place water restrictions in case of drought. We couldn't have done this without WaterWatch.
Q: That episode tells us a lot about the critical role WaterWatch plays. Can you expand?
A: The courts are where the battles are taking place now. Of course, there's always the battle for hearts and minds—and there may be some resistance there right now with where the federal government is going. But that's why organizations like WaterWatch and the ACLU, which I know isn't an environmental or conservation organization, are important: Being able to take things to court seems a very effective way to stop bad things from happening. Environmental legal actions have a big role to play now. I'm glad there is environmental law being taught in schools and people are being trained. When the Big Creek thing started, not only was WaterWatch not in existence, there weren't a lot of trained lawyers in water policy and land use policy except on the development side. So it's important that we now have trained environmental lawyers to carry out and pursue these legal actions.
Q: Why do you think we are at a point where legal steps are so crucial? How did we get here?
A: We got here because development interests have had free reign for so long. And they did whatever they wanted to do. But suddenly, when Oregon land use laws were passed, environmentalists got a new tool. Now we can say: "The law says this, the developer is doing this. We need a legal hearing to hew to the law." This has been a huge change but the scary thing is that federal courts are being taken over by more conservative judges. That should give us pause. A lot of damage could be done.
Q: As you look back on what happened at Big Creek, what are some takeaway lessons for those who find themselves in the same situation as the activists there?
A: The first clear thing is perseverance. It sounds trite. But it's so easy to get discouraged. So many decisions went against the activists at Big Creek—LUBA, then the Appeals Court turned them down. Then they had to go to the State Supreme Court. That takes money. Even with a group like WaterWatch helping you, it still takes money.
But these good people continued. That's what it takes. Perseverance will win because there's a financial cost to developers to fight this kind of thing. It's also really important to have an organization with a lot of credibility. That's something WaterWatch can supply.
Q: There's a pandemic engulfing the world right now. Nonetheless, a lot of anti-environmentalists are manipulating this crisis to rollback important protections.
A: The opposition forces don't rest. They're not sitting around. They're still planning lawsuits, their developments, and so on. If organizations like WaterWatch can't maintain staff and keep their offices open and go to court, then when things slow down with COVID-19, everything that's been going on with the environment will happen and ramp up again. The opposition is out there right now, and readying to take advantage because they think people aren't paying attention. I'm grateful to this organization. We need it. You're in my will even though I don't have a lot of money right now!
Where to find Andrea Scharf:
https://andreasbookblog.wordpress.com/